Vladyana

Langer

Krykorka

illustrator
Vladyana was born and raised in Prague, Czech Republic. She was an only child who loved art and studied privately for many years with professor A. Landa. After graduating from Art High School, she studied Architecture at University of Prague. In 1968 she came to Canada and has lived in Toronto ever since.
Prior to her involvement with children's books, Vladyana attended the Ontario College of Art. Upon graduation she worked for several years as the Art Director for a business publication. Eventually she began illustrating text books for educational publishers, which led to the publication of her own books.
A Promise Is A Promise sparked Vladyana's love for the Inuit culture. She has visited the Arctic many times to meet, paint and photograph the people and their land. While there, she made many friends and enjoyed new and exciting experiences. Since then she has illustrated all of Michael Kusugak's books. Northern Lights has received extensive praise and many honours: winner of the Ruth Schwartz Award, named a Canadian Library Association Notable Book, short-listed for the Amelia Frances Howard-Gibson Award for Book Illustration and included on the AEZOP Accolade List.
One of Vladyana's favourite hobbies is painting on silk. In her studio and design shop she creates handmade pieces for decoration and wearing. For further information about her wearable art contact her at 153 Sherwood Ave. Toronto, Ontario, Canada M4P 2A9.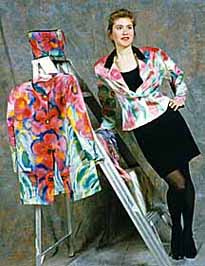 return to Oasis Press book info page
List of published books